Saturday, July 4, 2020, marked the end of a 2-day Agribusiness management training and empowerment program powered by Rep. Benjamin Kalu for his constituents in Bende Federal Constituency. The event was organized by Federal Cooperative College Oji River in partnership with Bonas Investment Limited and training faculties headed by REAP Africa.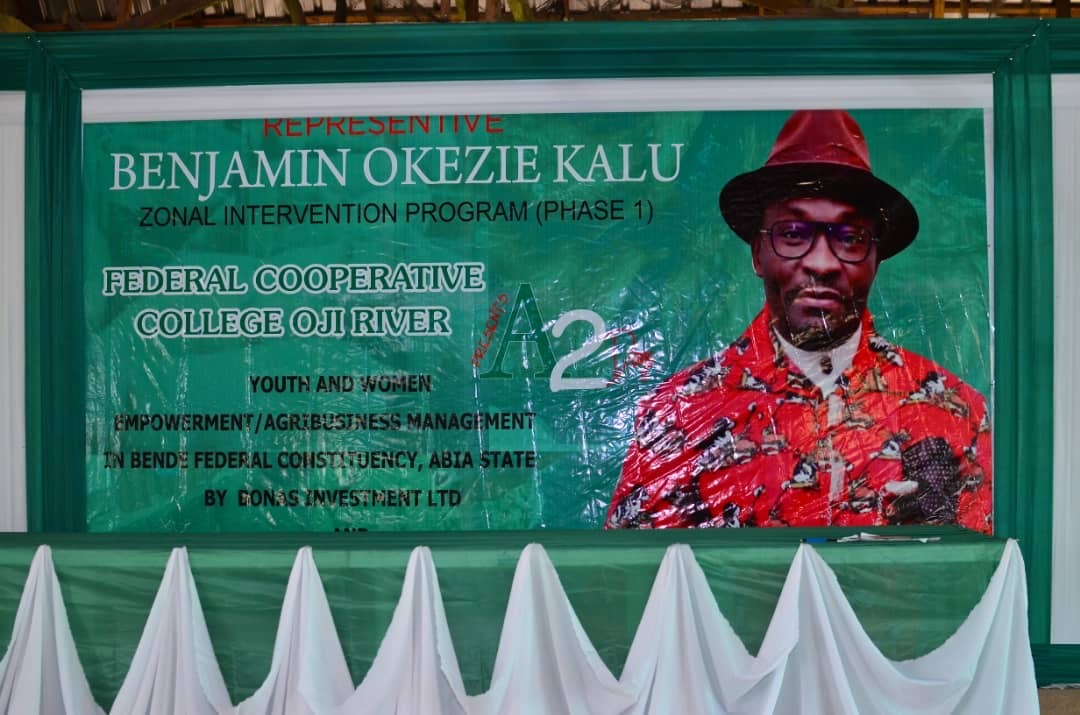 The programme which took place on 2nd and 3rd of July 2020, at Agbamuzu Village, Bende, the headquarters of the federal constituency, saw the participation of hundreds of indigenes from all wards of the constituency. It was witnessed and supervised by observers from the Federal Ministry of Special Duties and Intergovernmental Affairs from the Office of the Presidency who in their speech expressed satisfaction with the organization of the programme.
The impact of the event was highly celebrated as it saw the set-up of about a hundred mobile poultries across Bende federal constituency with birds, energy sources, cages, drinkers, feeding trays, feeds, start-up money and others.
Speaking to Drum Africa Correspondents, Hon. Emma Eke, from Item in Bende Federal Constituency had this to say;
"This program marks a major milestone in the fulfilment of a key promise of Rep. Benjamin Kalu's manifesto during his campaign. Agriculture is one of the strengths of Bende, but as we know, we face the challenges of lack of improved seedlings, lack of farming machinery, lack of affordable loans and lack of adequate agribusiness knowledge to elevate our farming activities from a subsistence level to a truly industrial level.

Some of us remember that he promised in page 10 of his manifesto, to

Partner with NGOs to increase agricultural productivity by providing knowledge, financial services, markets and opportunities for value addition and non-farm employment, in line with UN's sustainable development goal to eradicate hunger.
Partner with government and private agricultural organizations to train able-bodied youths in modern farming techniques to boost yield.
Provide improved and foreign seedlings for farmers in Bende Federal Constituency.
Address the lack of affordable loans or capital for farming

Today, we can say that a lot of Bende farmers have been energized and equipped to advance their farming to the next level and we are indeed very grateful to Rep. Benjamin Kalu."
Participants and beneficiaries of the programme who went through the 2-day rigorous training also spoke to Drum Africa Correspondents and all had glowing commendations for Rep. Benjamin Kalu. Madam Chizaram from Uzuakoli said,
"We are full of joy that we have finally gotten a Representative who has come to represent his people honestly. We did not make a mistake electing him. Hon. Benjamin Kalu was our best choice and we are currently enjoying the product of our good decision."