Deputy Speaker of the House of Representatives, Rt. Hon. Benjamin Kalu has urged the leaders of All Progressives Congress (APC) in the south east and indeed, Igbo leaders to unite as one and pursue their common destiny against all odds.
Kalu made the appeal, Wednesday, when the APC leaders in Abia led by Senators Chris Adighije and Nkechi Nwogu paid him a courtesy visit in his office.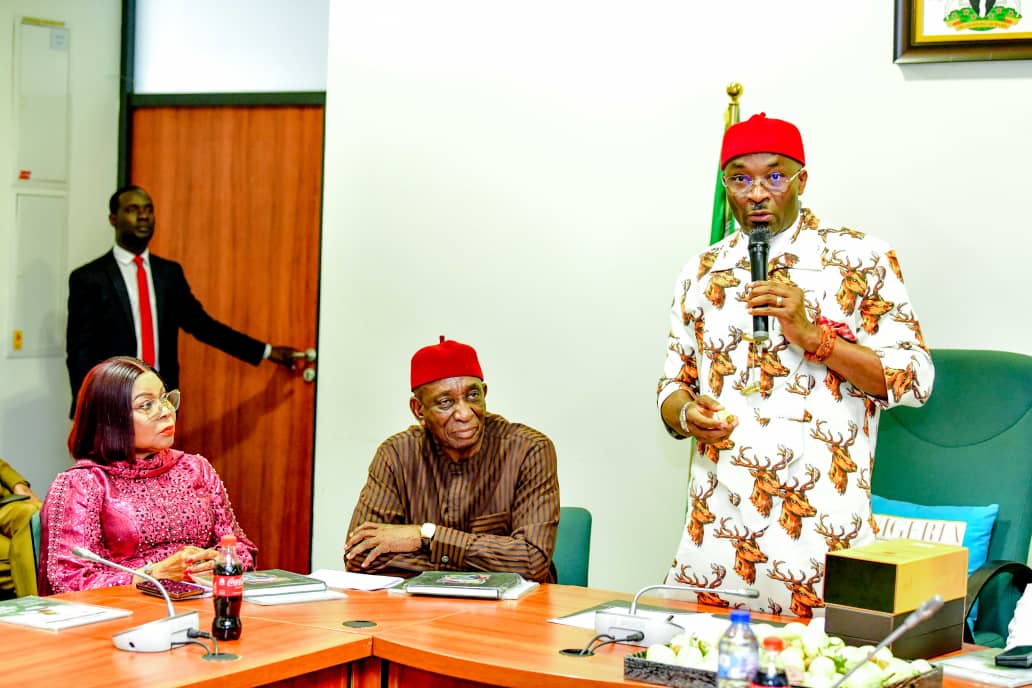 He said: "These are men and women of capacity that the state and nation needs. I'm most delighted to have you here. The realization that we are all in this together, whether it's in success or failure. There's an igbo adage which says "Onye ahala nwanne ya". We can't achieve any major milestone as a people without being together.
"Our nemesis has always come when we believe we could be lone rangers. It doesn't work, you will agree with me that it has never worked. The difference between our leadership and that of people from other jurisdictions, we find it difficult to stick together for a longtime. Nobody here knows who the sun will shine on tomorrow, so, in this wisdom when you are lucky to have it shine on one of your own, treasure its pleasure and maximize it, it might be your turn tomorrow.
"And we would rally around you. You have done well by coming today to rally around this sun that's shining now. It will make it brighter and stronger. We must therefore continue to push and together we shall overcome. Please push for more unity. I like the way spoke, go into reconciliation, open the windows and doors, let's embrace people, that's the spirit of togetherness, spirit of democracy. With this mindset, I guarantee you, we will achieve a lot soon."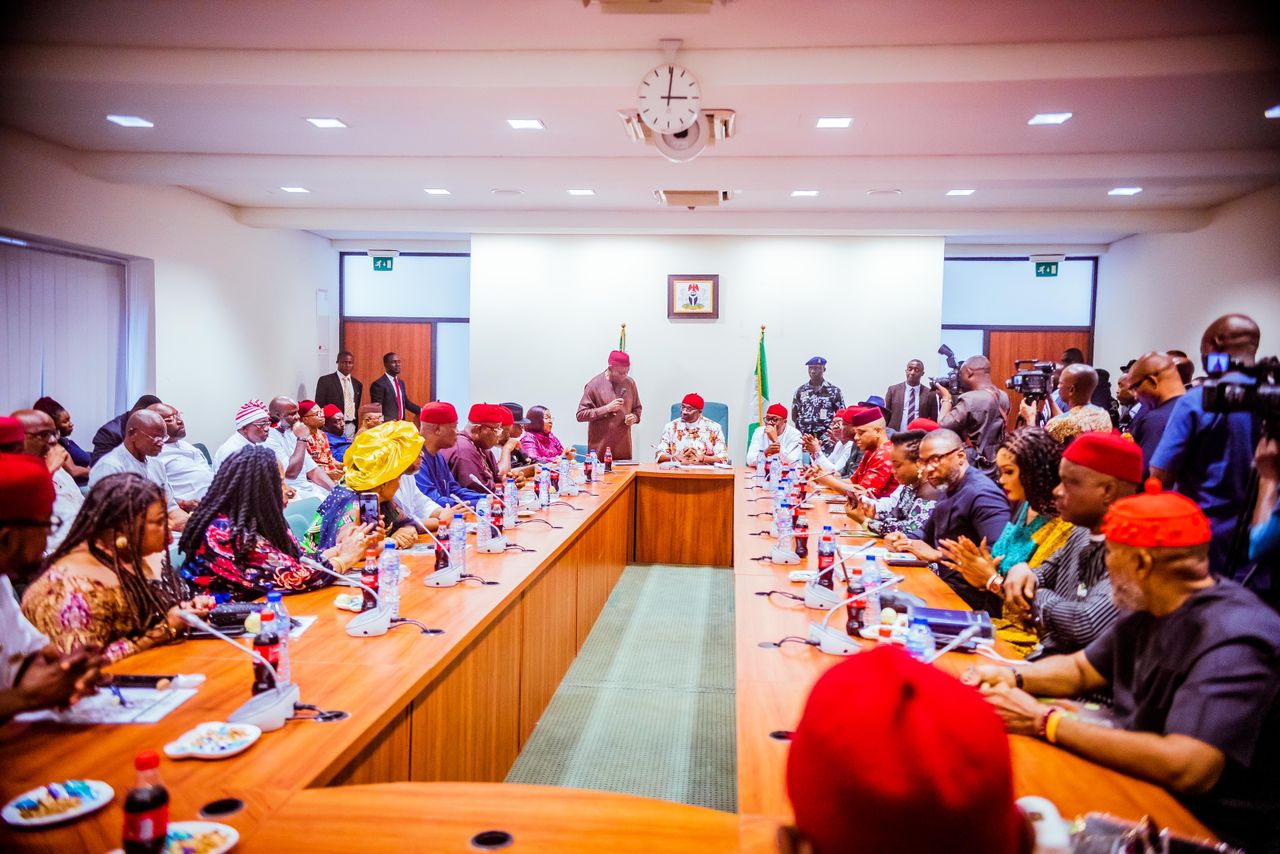 Responding to a plea by the Abia APC leaders to assume the leadership of the party in the South East, Kalu said that he would only accept the responsibility only on the condition that they will not turn their back on him later.
"Like the leaders said, this call is an urgent call, some of you seniors who have been in the parliament, there are what we refer to as matter of national public importance, once it comes everything will wait. It must be attended first before other businesses of the day. And I consider this as one of such. As you rally around me, very soon our sister Hon. Nkeiruka Onyejeocha will also be fully crowned. Please rally round her. So, that through synergy, we pull our resources together to grow the party. It is in such atmosphere that I will like to operate. This leadership that you have fully given me, I'm grateful. I am accepting this leadership only on the condition that you will not abandon me. I am accepting it on the grounds that we will do it together. Today, you want me to lead not to rule, I promise to lead with you by my side", he said.
The deputy also expressed his gratitude to Tinubu for running an inclusive government that had given the south east a sense of belonging.
He also appreciated the role of the former speaker of the House, Rep. Femi Gbajabiamila in his emergence as the deputy speaker of the 10th House.
"Let me not forget to thank the President of the Federal Republic of Nigeria, our party leader, who knew the southeast has never had any position among the high ranking leaders of the country for 8 years, even though the southeast did not give him the greatest votes that will make him give us what we are asking for.
"He was magnanimous enough in victory to consider south East as a region that needed to be part of the leaders of this country. I also want to thank my mentor in the parliament. Hon. Femi Gbajabiamila without him I will not be sitting on this seat today. There were so many reasons for me not to be on this seat but like his own mentor, Asiwaju defended him whenever they came to attack him in his absence. Gbajabiamila defended, that he was looking for a man that has capacity, content and character out of the southeast, and he saw one in Benjamin Okezie Kalu. And I thank my constituents for believing in me and electing me to be back here. If they didn't vote for me from Bende federal constituency, the nation will not see that there's a diamond hidden underneath the earth", he said.
Earlier in his remarks, the leader of the delegation, Senator Adighije said their mission was to congratulate Kalu and beckoned on him to assume the leadership of the party in the south south.
He said: "I have come in total support of Abia leaders of thoughts in APC across the entire state. We have come with a heart full of joy to congratulate our special son. For me to get out of my place at my age to come and see my son, my special son with age difference of about 40 years, it means right from home, we are proud of you. I want to recall your first day in House of Reps in June 2019, you didn't quite settle down and you moved a motion. You didn't spend 5 minutes and you moved a moved a motion and two weeks later you became a Chairman of a committee.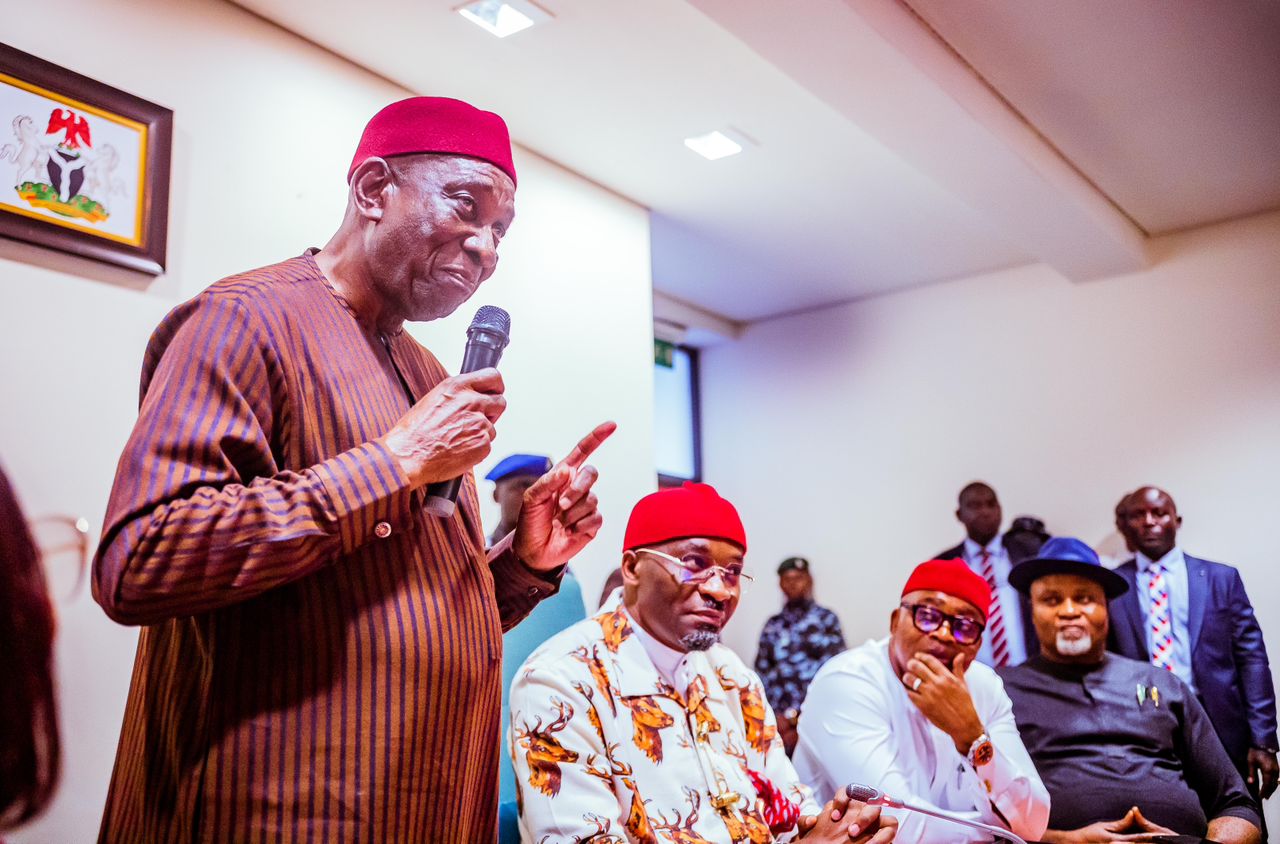 "You have already been created for greatness and above all, this  greatness has come to you because you are a child of God. We were waiting patiently for the main party structure to come. But we the elders, custodians, people who have the interest of this party decided to come now. These are the the elders and the stakeholders and people who want the survival of our party. We are here.
"We are here to pledge our support because you are now hold a position of responsibility and trust. Charity begins at home. So, whatever that has happened in Abia, we are here to ask you to quickly do the needful. So that, Abia, all of us will come together.
"We are all here to plead with you and we know you are a man of action to build bridges across the lines in Abia and indeed, south east. So that Abia State and indeed the rest of south east will take what is rightfully their own.
"We cannot talk about marginalization anymore with you as deputy speaker because you are a goal-getter. Very soon, ministers from the south east will emerge. Please, put everybody together so that we develop a very strong party in Abia so that in the next election, we will the number one. That is a task I believe you can do.
"There will be no fractionalization. Everybody must come together. Please, consult widely with the ministers, with people who have positions and with all of us even right at home, build a stronger party in the entire south east.
"We believe as soon as the ministers come on board, we are looking forward to call a summit meeting of all of you so that we can plan the way forward for APC in the south east, along with the governors.
This is our prayer. But of course, don't forget that charity begins at one in all this 5 issues, Abia must come first. Abia must take it's rightful position.
"I give you this responsibility because I know you. You are brilliant, you are dynamic, honest and humble. Don't delay. It's a sense of urgency for us to build a strong party and make the south east, APC strong hold."
The highlights of the meeting which attracted other APC stakeholders such as Chief Sam Nkire, former speaker of Abia House of Assembly, Hon. Stanley Ohajuru, former minister of minister of State for Science and Technology, Chief Henry Iko; former member of the House of Representatives, Hon. Sam Onuigbo, former National PENCOM Commissioner, Chief Anyim Nyerere amongst others were the decoration of Kalu in an Igbo traditional attire, a gift of bible and machete which the stakeholders said symbolized strength.