Members of the Ndigboamaka Progressives Market Association consisting of all market unions in Lagos, Nigeria were in Abuja on Friday, May 19th, 2023 to pay a courtesy visit to the member representing Bende Federal Constituency and the APC Consensus Candidate for the Office of the Deputy Speaker of the House of Reps, Rep. Benjamin Kalu at the Joint Task secretariat.
The Association which is made up mostly of southeasterners across the various markets in Lagos State stated that they have come all the way to honour the outstanding lawmaker who has continuously represented the southeast excellently. Speaking on behalf of the group, the President Hon. Comr. Chinedu Ukatu added that they are proud of the representative and his numerous achievements in the Nigerian legislature. They appreciated him for stepping in to quench the chaos that loomed in Lagos after the elections saving many lives.
While inquiring from the lawmaker while he decided to step down from the Speakership race as he was very qualified for the office, they also stated that they were willing to support whatever decision he has taken.
They further thanked the All Progressives Congress (APC) for zoning the Office of the Deputy Speaker to the South East and micro zoning to Rep. Kalu adding that he is a man of competence and capacity who will surely deliver on the job. They assured the lawmaker that the Southeast Business Community in Lagos is proud of him and is glad that the region was not relegated to the leadership of the 10th Assembly.
The Association seized the opportunity to announce that they have officially made him the organization's patron in Lagos State reassuring him of the unwavering support to the next administration.
Rep. Kalu in his response appreciated them for coming all the way from Lagos to pay him such a courtesy visit, he emphasized that the Office of the Deputy Speaker is one that will serve the entire southeast geo-political zone not just his state or constituency. He assured them of his knowledge of the problems affecting the region and his commitment to proffering possible solutions to them.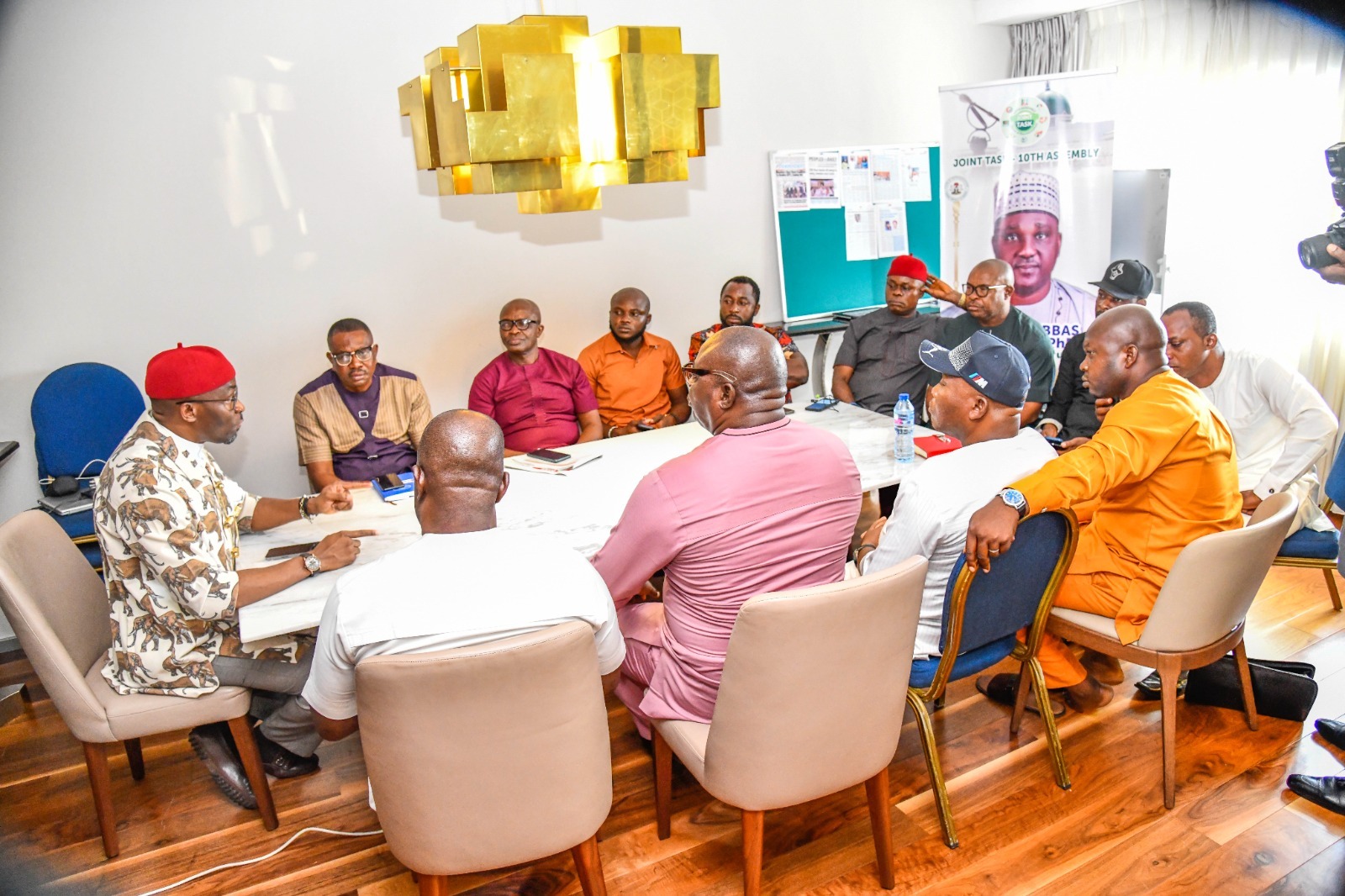 Executives members of Ndigboamaka present at the courtesy visit to Hon.Benjamin of federal reps
1. Hon. Comr Chinedu Ukatu.
President Ndigboamaka Progressive Markets Association.
2. Nze Marcel Okezue
President Alaba Electrical dealers association. Vice president Ndigboamaka progressive market Association.
3. Chief Dr Anthony Okeke.
President Mandilas International Trade Centre , Lagos Trade Fair Complex Lagos.
General Secretary Ndigboamaka Progressive Markets Association.
4. Prince Africanus ogudoro,
General secretary Ladipo market, Also Assistant General secretary Ndigboamaka Progressive Markets Association.
5. Hon. Comr Obinna O Obichukwu.
President Refrigeration and air-conditioners dealers association lawanson Lagos (Rada)
Public Relations Officer Ndigboamaka progressive markets association.
6. Mr Clement Molokwu .O
Chairman Association of fashion wear dealers Lagos.
Financial secretary Ndigboamaka progressive Association.
7. HON.METU A EJIKE.  CHAIRMAN BOT ASSOCIATION  OF REGISTERED FREIGHTFORWADERS NIGERIA ( AREFFN). ORGANISING SECRETARY  Ndigboamaka Progressive Markets Association.
8. Chief. EZEKWONNA RUFUS Ikechukwu  .
Chairman Emeritus. Association of fashion wear dealers Lagos.   
Contact and mobilization Ndigboamaka market association.
9. Mr. Ifesineke Ifedioramma Gen Secretary_Building Materials Market Abule Ado.
Chief Provost Ndiigboamaka Progressive Market Association.
10. Mr. Egwuatu Arinze=   Vice chairman Phone dealers lawanson.
Ass -Provost Ndigboamaka Progressive Markets Association.
11. HON Vincent IKWUEZE  executive chairman, OLOJO DRIVE AND ENVIRONS TRADERS ASSOCIATION, (ODETA) Secretary General: Alaba international amalgamated traders association (AIATA).
Zonal Coordinator of Zone 2 Ndigboamaka Progressive Markets Association.
12. Chief Tochukwu Ezeani.
President Emeritus Mandilas international Trade Center, Lagos Trade Fair Complex Lagos.   
Chairman elders council Ndigboamaka Progressive Markets Association.