The Spokesperson of the House of Representatives and Member is the House of Representatives, Rep. Benjamin Kalu joined other elected members of the National Assembly as they received their certificate of Return from the Independent National Election Commission (INEC)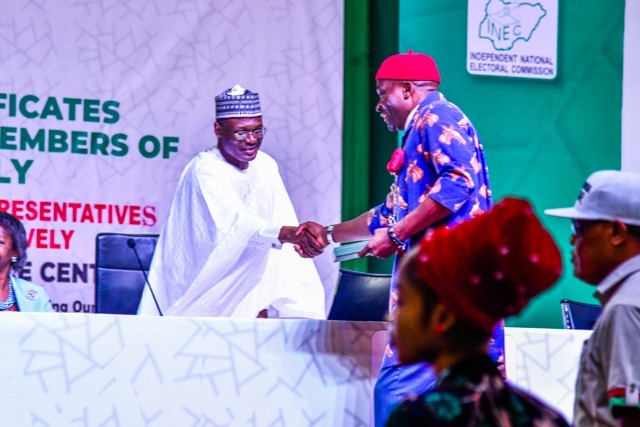 The certificate presentation event held at the International Conference Center today Wednesday, March 8, 2023 where the INEC National Commissioner Festus Okoye Presented the Certificates to him.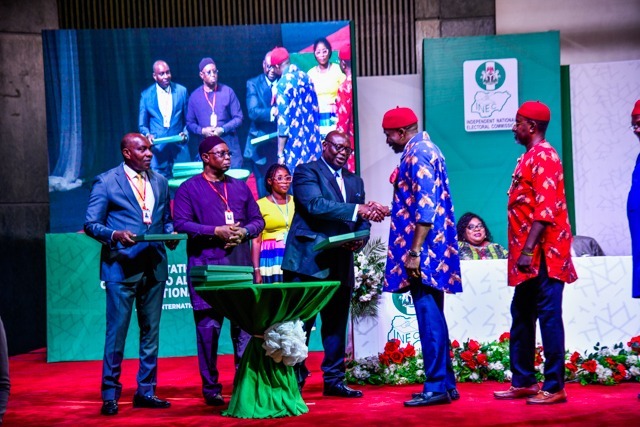 Rep. Kalu secured his reelection to the House of Reps after he was declared winner at the polls on the 25th of February 2023 where he garnered over 10,000 votes to defeat the LP and PDP Candidates who polled 6,818 and 3,930 votes on the 25th of February 2023.
While speaking to a Drum Africa Correspondent after receiving his certificate, Rep. Kalu stated that it marks another milestone in the journey of the transformation of Bende Fed. Constituency, Abia and Nigeria at large, promising to be more active in living up to the roles of the mandate. Speaking on his expectations of the 10th Assembly, He said;
The new coloration of the House of Representatives by members from over eight political parties is healthy for our political development as this will bring on board diverse perspectives on National issues. A balance-stormy debate is expected, reflecting different ideologies of the political parties. A model healthy for the advancement of our democracy.
Rep. Kalu promised that the task of nation building was commenced by the 9th Assembly and all that it entails will be sustained while new innovations for legislative interventions will be accommodated. He added that new members will be given a healthy sense of belonging in the scheme of things by ranking members like him.
Rep. Kalu was accompanied by constituents, friends and well wishers.