The House of Reps Candidate for All Progressive Congress (APC) in Bende Federal Constituency, Rep. Benjamin Kalu joined other well-meaning Nigerians and constituents to cast his votes at his polling unit, Bende Central School, Bende LGA, Abia State.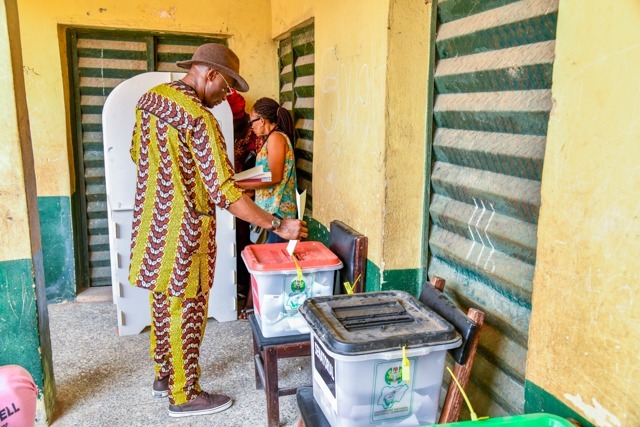 The sitting member while casting his vote expressed satisfaction at the turnout of voters in the polling unit, he further commended the Independent Electoral Commission (INEC) for a peaceful and organized voting process at his polling unit. He said;
"For a polling unit in a rural area with such a number of people, this is a good sign that as a Nation we have defeated Voter Apathy. I commend INEC for a peaceful electoral process howbeit slow but people are voting in a well-organized manner and I am glad."
On his expectations of victory from the process, the Representative expressed optimism in the votes of Bende Constituents to re-elect back to the House of Representatives. He stressed that the people of Bende have experienced true representation and will not go back to the shackles of poor leadership. According to him;
"We have represented ourselves and we have represented the people who have been at the center of our representation, it is the time for the people to show their gratitude for good governance. The decision today will show what the people truly what – money in their pockets or projects in their communities. The votes will confirm the type of leadership the good people of Bende yearn for which made them vote for me the first time. I am highly optimistic that they will do what is right."
Also Speaking to Drum Africa Correspondent, Electorates present at the polling unit affirmed that the unit has been peaceful and orderly with everyone voting for their choice of candidates without any form of rancor or violence.
Rev. Father Polycarp, another electorate also stated that he came back from his place of residence to cast his vote in Bende just like he did in 2019 because he wants the Representative to continue the good work he has started in the House. He added that the lawmaker has made them proud and they will in turn show their gratitude as a people