It was an atmosphere of joy and excitement as the people of Umuimenyi/Nkpa Ward in Bende Federal Constituency ceremoniously received the Member Representing Bende Federal Constituency, Rep. Benjamin Kalu assuring him of a flawless victory come 25th of February 2023 as they have collectively decided to re-elect him following his excellent performance in the House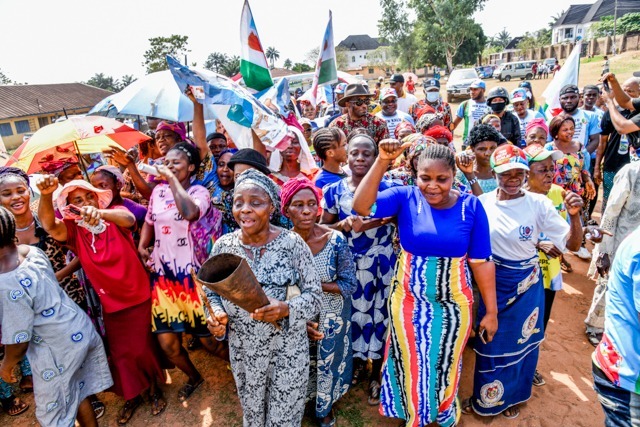 Rep. Kalu was warmly welcomed into the community by the Eze Chibuike Christopher Izuwa, Enyi Oha 1 of Amaegbuato Autonomous Community and Eze Mark Ebochuogu, Ohomire 1 of Lohum Imenyi Autonomous Community, His Royal highness Eze Edward Onuigbo, the Ochim II of Amorji Imenyi.
The Former Chief Justice of Abia State, Justice Sunday Imo, also a Stakeholder of the Nkpa Community who accompanied the Representative speaking to the Community members, stated that Nkpa is United and as such they take decisions as one family. He highlighted they have decided to collectively vote Rep. Kalu to show gratitude for all he has done for the Nkpa Community. He said;
"Nkpa is one big family who share a common vision and what we have decided is what we will do.

I joined him for this campaign because I need to inform you all that Benjamin Kalu is not just a Bende son representing us, he is now a son of Nkpa Community.

We have resolved that Rep. Benjamin Kalu is our collective candidate and we will ensure that we deliver him 100% "
He recalled in 2019 when the people of Nkpa did not support the Honorable Member but he didn't hold it against them as one of his legacy project is now sited in Nkpa.
"Regardless of Nkpa not voting for him in 2019, he deemed it fit to make Nkpa a place for such a massive project. This is the time we show him the gratitude he deserves.

Come 2023, we will give him our votes and we will continue to vote him until he decides not to go back to the House"
Dozens of Constituents in the various villages including Ugwunkpa, Amegbuato, Amaohoro, Amediaba, Lodu, Ukwuachi and Akoli Imenyi spoke passionately in appreciation of his representation to Nkpa and the entire Bende Federal Constituency. They stressed that a result of the newly constructed Eme Nkpa, so many constituents who have not been to their villages in years, came home last Christmas to see their loved ones.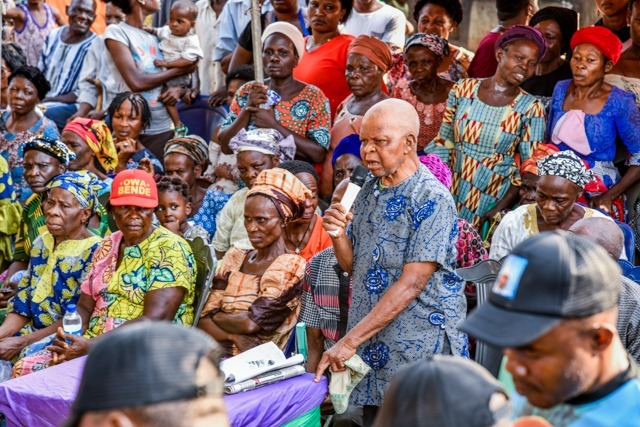 Also Speaking at the Campaign ground was a Key Stakeholder in Nkpa, Chief Innocent Ochiobi a.k.a Picolo, in his words;
"Anyone who does a good thing should be duly appreciated, Benjamin Kalu has shown that he is indeed a Man and Nkpa people cannot be deceived by anyone"

"This mandate is where we stand and we will follow it to the end, there's no going back"
Highlight of the day was at Amorji Imenyi Village where the people waited till late in the night to receive the Honourable Member still with joy and excitement. Regardless of the nightfall, they danced with gratitude to Rep. Kalu saying that he is the only government official who has remembered them and even made efforts to come and pay them a visit.
Rep Kalu while speaking to the constituents appreciated them for the overwhelming love and support. He recalled the past years when he had to fund the rehabilitation of the dilapidated bridges and roads in Nkpa personally because he could bear to see them suffer the way they did. Following the unsustainable approach, he was spurred to bring it up on the floor of the house upon resumption into office.
He expressed gratitude to God and fulfillment that the story of ecological menace in Bende is almost a thing of the past with the completion of the ecological projects adding that people can now come home to see their loved ones as well as build structures that will further stimulate the economy activities of Nkpa community.
Rep. Kalu presented the constituents with various gifts which he said was materials for the annual empowerment program on 29th of December that didn't hold as a result of his absence at the time.