The Member representing Bende Federal Constituency and Spokesperson of the House of Representatives, Rep. Benjamin Kalu paid a courtesy visit to the Former Chief of General Staff of Nigeria and Commodore in the Nigerian Navy, Okoh Ebitu Ukiwe (Rtd) at his country home in Abiriba, Ohafia Local Government Area, Abia State, today, February 1st, 2023.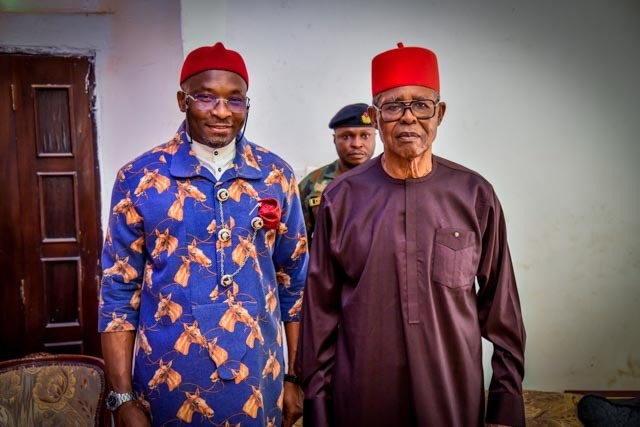 The Representative was accompanied by Stakeholders from Bende, Chief Sydney Dike (Ocho Igbo Ndu), Engr. Chief Stephen Ndukwe, and some members of the Benjamin Kalu Movement. Chief Dike who preformed the traditions of breaking the kola nut, introduced the Representative to the Rtd. General while giving a brief biography highlighting some of his major achievements in service as Member of the defunct Supreme Military Council on two different occasions between 1975 and 1977, and 1983 and 1985, Military Governor of Niger State between 1977 and 1978, Military Governor of Lagos State between 1978 and 1979, Flag Officer Western Naval Command between 1983 and 1985, and then as Chief Of General Staff, which was the equivalent of a Military Vice President between 1985 and 1986.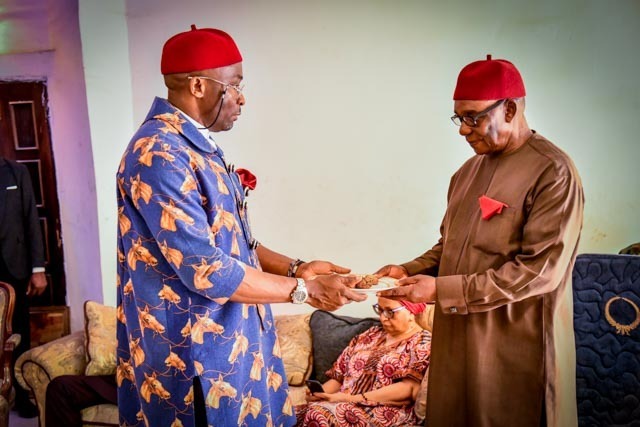 Rep. Benjamin Kalu in his speech expressed appreciation to the Rtd. Commodore for the warm welcome stating that as a child, he grew up admiring the Ex Military Governor and has since nurtured the dream to sit and discuss with him someday. He described Ebitu Ukiwe as a living legend who should be celebrated and recognized as a foremost Igbo personality that inspired his generation and today he has come to honour him. In his words;
"You are one of the living legends of our time and we are blessed to still have you here with us. We do not need to go far to honour our legends when we have them here with us. This is why we have come to give you this well-deserved honour and appreciate you"

"You may not know the lives you have touched. My dressing in the way I wear our native attires on the floor of the House has been greatly influenced by how you wore the Igbo identity with pride all around the world.

"Watching you while growing up and the way you spoke, your eloquence inspired me today to speak boldly the way I do even as the Spokesperson of the House of Representatives.

Where ever you see me raise the flag of the Integrity, fairness and transparency in service to the nation, please remember that there are people like you inspires people like us.

"This is the time of passing the baton of leadership from your generation to the next generation and it is my desire to be close to great men of character, integrity, credibility and capacity like you in expectation of more mentorship and greater mantles of leadership to continue from where your likes left it.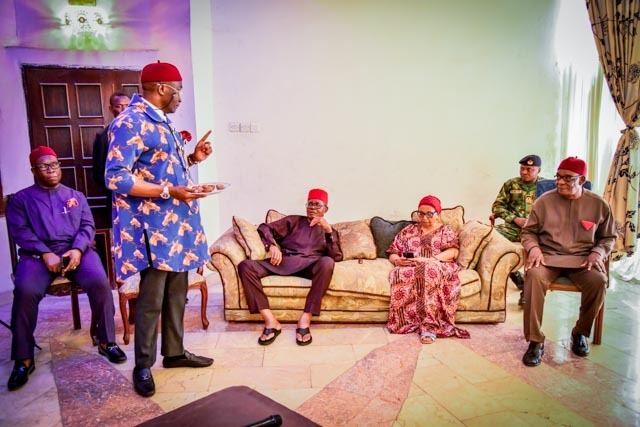 He appreciated the Rtd. Military Governor of Lagos and Niger State for making his childhood dream come to pass while thanking his wife for standing by him and being a pillar as he upholds the pride and dignity of our people without reservations.
The Honourable Member further explained in detail his political journey and experiences so far through the past years for Bende Federal Constituency. He listed his achievements in the House in just three years which many of his constituents considered comparatively to be the highest in socioeconomic impact of lives in Bende.
Rep. Kalu used the opportunity to inform him that is running for re-election to the House to continue serving as the people of Bende Federal Constituency. He pledged to continue his walk on the path of integrity like the Ex Military Gov. Ebitu Ukiwe, Gov. Sam Mbakwe, Gov. Akanu Ibiam and Gov. Micheal Opara which means selfless service to the people.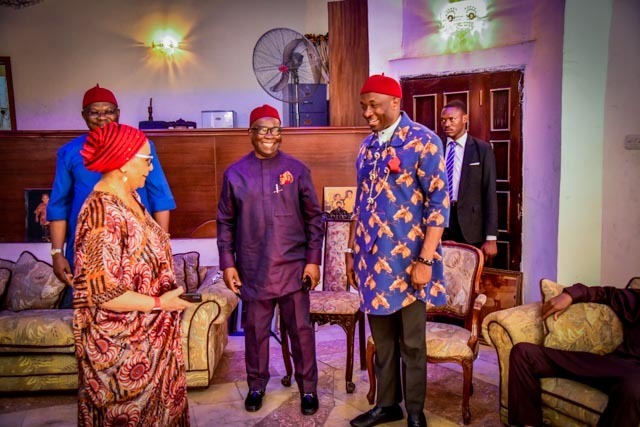 The Fmr. Chief of General Staff, Commodore Ebitu Ukiwe (Rtd) in his response expressed great pleasure in the way the Representative spoke. He stated that he has heard him address issues concerning the Igbos, acknowledging his intelligence and eloquence. Admiral Ukiwe appreciated Rep. Kalu for coming to honor him at his home on this visit while accepting his request.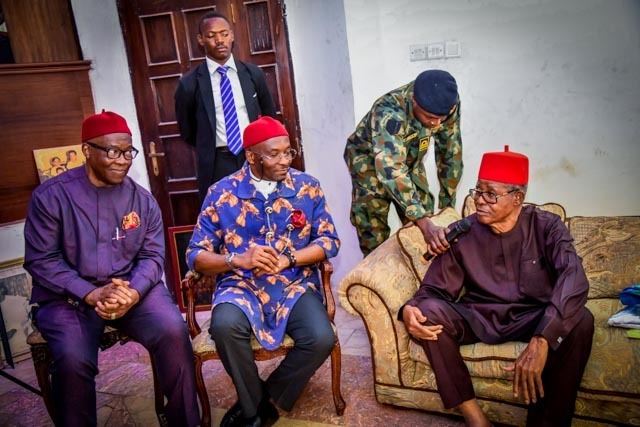 In his words;
"I am impressed by all you have said, on your request to come closer, It will be my pleasure to have you around me. As a matter of fact, I have listened to you on issues concerning Igbos, nation at large and various projects you intend to achieve.

All I can say is Yes, come closer. Chances are, there is still more to see and learn. I welcome you and I urge you to bring more young ones to follow your footsteps. The more they come, the more we grow men who truly understand leadership and service."

"You have shown a good example that your leadership is not just for Bende, Abia State, Eastern region but a service to the Nation at large. There is a lot of work you have to do and I will direct you through those responsibilities. Thank you very much for coming"
The meeting ended with a word of prayer by the Wife of the Rtd General, Amina Ebitu Ukiwe as they all took group photographs.