Following the news published by 9News  Nigeria, the member representing Bende Federal Constituency, Rep. Benjamin Kalu has described it as false news by propagandists and people who have continued to fail in their smear campaigns against him, adding that it never happened as warm pleasantries were exchanged between the two candidates of the party at the airport on their trip to Abia state. A meeting which was witnessed by another prominent son and leader in Abia state.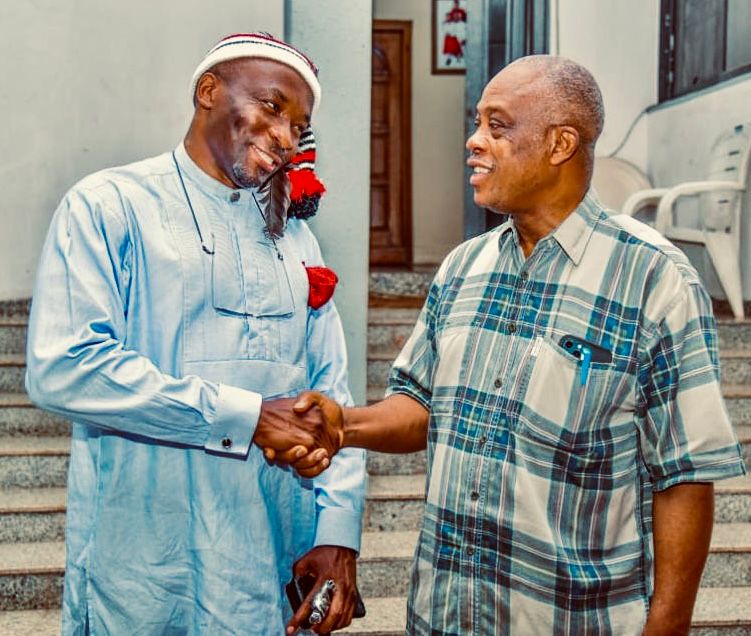 One of the Attendants at the meeting referred in the news who is the candidate of APC in Bende South Constituency of Abia State, Chief Owa Kingsley Chinedu while speaking to a DrumAfrica Correspondent in an interview stated that the meeting which had in attendance members of the House of Assembly from all over the state at the home of High Chief Emenike, was an open meeting where no individual was mentioned or discussed and the minutes of the meeting is there to exonerate High Chief Emenike who the sponsor of the news continuously wish to paint as fighting the leaders of the party. However, he concluded that when the Guber candidate invited Bende LGA privately, he passed a vote of confidence on what Rep Benjamin Kalu has done so far in the name of the party which was the reason he supported the candidate nominated by him for the House of Assembly, that he has no doubt that Rep. Benjamin Kalu will lead the party to victory. He added that the APC Gubernatorial Candidate further asked them to work closely with the Representative.
The Abia state party Chairman of APC Dr. Kingsley O Ononugbu also speaking to a Drum Africa Correspondent had this to say;
" it is obvious that this media attack is coming from the source that is not happy with the progress of APC in Abia State as nothing stated in that publication took place during our brief meeting with our house of assembly candidates. Rep. Benjamin Kalu is in good standing with the Party in Abia state and one of our top leaders with great followership that all candidates of the party including the presidential candidate and the Guber candidate will benefit from. He has been a strong supporter of Ashiwaju Tinubu even when many didn't see it coming. I believe they have a personal relationship. Hon Ben Kalu will lead the party to victory in Bende and I urge all sound minds to jettison this fabricated smear campaign against his person . He is actually one of those in the reconciliation committee trying to bring every one together crisis and post crisis."
Another anonymous stakeholder who  attended the meeting highlighted that it may seem that the quality of the leadership and representation of Rep. Benjamin Okezie Kalu, member representing Bende Federal Constituency of Abia State has for some unknown reasons unsettled those who felt he is either in competition with them or the hope of his people in the time to come against their self centered wishes.
The member, who has shown competence on all fronts and has built a name for himself in the national space has attracted envy and jealousy in the minds of those who ordinarily supposed to take the glory and celebrate with him. This is unfortunate, because like the Biblical King Saul, they have drawn their arrows and swords to slaughter the God's anointed David. They failed in their enterprise of wickedness before they started. Sleeplessly, they have conspired on how to pull him down and destroy him for standing tall among the people in his transparent good governance which Bende people enjoys and are in support of.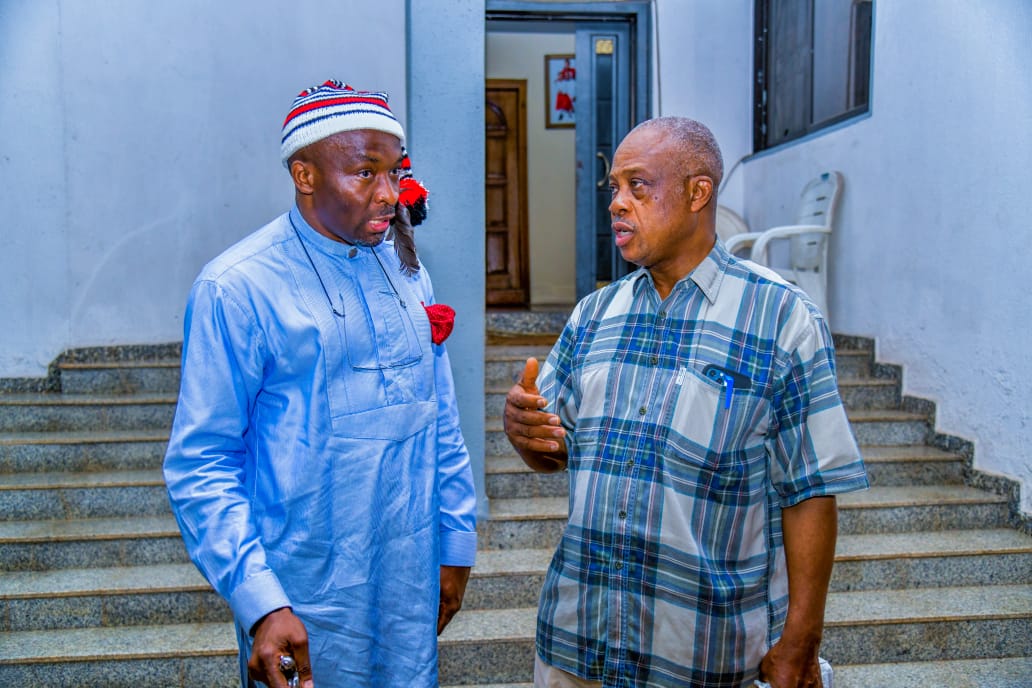 It appears the national party has realized the truth of the real betrayals, what they do in the dark and gradually getting exposed. They are getting frustrated that they have been caught in their tricks and again they are back to the smear campaign table, after several attempts on his personal life, family, integrity now they are on his core political alliances seeking to destroy it directly having failed with defamation and libels previously.
You may recall that recently the spokesperson of a prominent leader in Abia published that the problem in Abia APC was Rep. Benjamin Kalu and High Chief Emenike, when that failed he hired a member of the State Executive Council of APC Abia State brought him to his house and asked him to make a statement to cast aspersions on Rep. Benjamin Kalu, not knowing that his voice in the background conspiring was recorded and related calls traced to his country home in Abia. He did not stop there, he paid APC members to start a local smear campaign against Hon Benjamin Kalu and even asked them to leave APC to fight Hon Kalu in the bid for APC to lose the House of Representatives which has given him sleepless nights.
Accusations after accusations, blackmail after blackmails, defamation after defamation without showing a single evidence against Rep. Benjamin Kalu, what an endless voyage of destruction, but the question is why because we are yet to know the single offence of one of the best representatives and leaders of APC in Abia to deserve this home grown media and strategic attacks even within the party hierarchy, He added.
The APC Senatorial Candidate of Abia Central Senatorial zone and a Former Member of the House of Representatives, Hon. Emeka Atuma who also attended the meeting, when contacted stated that such a thing never took place and exonerated the Guber Candidate from the lies against him.
According to him, this is a strategy to further divide the party by those working so hard to frustrate APC Abia state. He went on to say:
" I have known Hon Benjamin Kalu since 2001 when we were all trying to go to the House of Representatives and he has been a man with a dependable and consistent Charater, a man of peace always looking for the good of the party and a strong ally of Asiwaju Ahmed Tinubu whom he always testified as assisting him without meeting him in person. We are counting on him to deliver the federal constituency to our party because Bende has reaped a lot from the federal government ".
Speaking to a DrumAfrica News Correspondent on his response Rep. Benjamin Kalu said;
"The father of all my smear campaigns have started again, he has refused to give up because I chose to stand by the party APC and not sister Party. I am a party man and all APC candidates are my candidates for the coming elections and my results at the end will show it. Asiwaju Ahmed Tinubu for President, High Chief Emenike for Governor, all the National Assembly and State Assembly candidates of APC.
Go and tell them that their sponsored smear campaign will never see the light of the day no matter how it is funded.
They are the one splitting Abia APC with lies for their selfish interest, they vowed to pull APC to the ground in Abia State for obvious reasons and because we said no they are fighting us from all fronts, but soon what happened to the biblical king Nebuchadnezzar will happen to them if they refuse to change. Tell them we have never dishonoured them despite all their hidden and open attacks, tell them the Bende people are with us and we will win for APC in the coming elections, tell them to stop lying against High Chief Emenike our Guber candidate, tell them am comfortable with my House of Representatives for Bende, they can take the world. Tell them to stop being afraid of the rising of the sons of Abia, tell them to learn how to manage success better for their own good. Tell them to go learn from Ashiwaju the human capital developer, the talent scout expert. A man not threatened by the rising of those around him. Tell them that Bende people are with us and that's what matters and the Party is with us and will give us more roles to play. Politics is for every one not a selected few. Tell them to stop being AFRAID, there is nothing they have that we desire. Tell them we know who has been advocating that we have three factions of APC in Abia state even when it was two and tell them that even the National party now knows who has made it difficult for the two factions to be one despite all efforts of High Chief Emenike. Tell them they are not GOD and that there is GOD who over seas the affairs of men. Tell them we shall be victorious at the end.